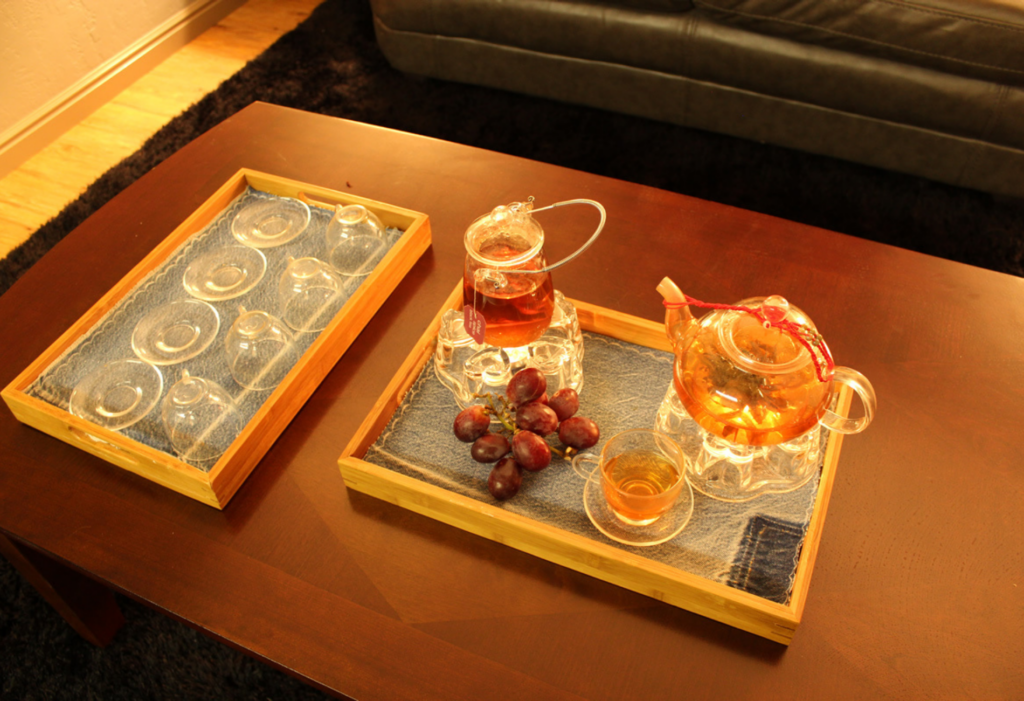 Crystal Water Float Spa, we are an independently owned and operated Saltwater flotation Spa. Our feature float tub's have been awarded #1 in consumer commercial isolation tanks, They are the finest environment for removing yourself from the hustle and bustle of our daily lives, when you get into one of our tanks you will find relaxation and stress relief unlike anything you have ever experienced in your life and will become the go to place for you to find that special place for you to have your " me time".
My name is Jim and my wife's name is Hui and we are pleased to offer and bring this new concept to the Tooele and Stansbury valley! We personally started floating about 1 year ago and found so many positive effects on ourselves and wanted to share this with as many people as possible!  For women here is my statement:  This environment gives a woman everything they look for in life, it detoxifies, clarifies, exfoliates, and conditions everything about a woman!  It will leave your skin smooth as silk; it conditions your hair and will leave you glowing like a ray of sunshine!  We are proud to offer this new service to our home area and look forward to servicing our friends and neighbors in the newest state-of-the-art flotation spa in all of Utah!  We look forward to meeting everyone and watching the benefits everyone will enjoy!
Treat yourself or a loved one to a session with one of our state-of-the-art Float Pods or our Hydro Massage Chairs or try our Infrared Saunas. Booking is fast and easy.
Most float tanks use Epsom salt, magnesium sulfate, in high concentration so that the relative density of the solution is about 1.25. (Lilly recommended 1.3 but this requires operating very close to saturation with the risk of re­crystallization). The density assists floating particularly making the head buoyant so that the nose and mouth are well out of the water for breathing. It has recently been discovered that there is a secondary effect which is important to flotation therapy. Magnesium is absorbed through the skin due to natural molecular diffusion. This tends to correct magnesium deficiency. Magnesium is absorbed from the diet but in many areas of the world, over­cropping without adequate replacement of magnesium makes the normal diet low in magnesium. The body naturally optimizes the levels of magnesium, so there is no overload effect from floating in the salts for extended periods. It is noted that there is no "flotation therapist", although there is a need to instruct the floater and need to maintain the equipment in a safe condition. However, flotation therapy is compatible with other therapies as a preparation or conjunct activity. Examples include massage, talk therapy, and hypnosis.
Flotation requires a soundproof and lightproof fiberglass enclosed float capsule (sometimes referred to as float tank or spa ­ approximately 8 feet long by 4 feet wide by 4 feet high) filled with heated water (to skin temperature of 94­95 degrees F) and a very high concentration (800 lbs.) of Epsom Salts. The resultant high density allows one's body to float naturally and spontaneously without effort. Even the head floats. The center of buoyancy and the center of gravity of the head is in about the same place so you can tilt your head back comfortably without fear of sinking. Due to the high salt levels in the water, the flotation tank creates a zero-gravity environment. Unless you are an astronaut the flotation tank is the only situation you will encounter where your body is free from gravity. NASA employs flotation to simulate weightlessness. Zero gravity allows you to relax every single muscle, your neck, arms, back, and even ears. The tank enables you to find those areas you are holding tense so you can let go. Finding where gravity is and in which direction, then computing how you can move and not fall over, takes about 90% of your brain's activity on a daily basis. When you start to float you are free from all the gravity computations and the physical world, which leaves the brain free to attend to other matters. The tank creates a state of sensory relaxation as the mind and body are shielded from all the external stimulation. The brain's normal workload is reduced by up to 90%. In this situation, the body conserves energy and has a chance to heal and rejuvenate itself.
Floating in darkness allows areas of the brain which are always in use when awake to be liberated from their work. Tests have shown that there is a drop in electrical activity of the brain and you begin to generate theta brain waves, which are associated with deep relaxation. The darkness during floating also induces a balance between the left and right brain. There is a shift from the normally dormant left side of the brain (logical, analytical, rational) to the right side (intuition, mental clarity, and creativity).
For the first time both sides of the brain are in harmony and the balance creates allows you to use huge amounts of previously unavailable brainpower.
One of the major sources of stimulation in humans is the temperature gradient change on the surface of the body. The temperature inside the float tank is isothermal over the surface of the body so that the nerve endings covering the surface of the skin no longer perceive a separation between the skin and the solution inside the tank.
The flotation tank is soundproof. During floating, you may choose to wear earplugs, your ears are below the surface of the solution, which cuts out external sounds. Some people find that gentle music from underwater speakers helps them to relax.